Attend Rancher Rodeos with Netic
Learn how to deploy Containers and Kubernetes in production environments
On the 3rd and 4th of March 2020, Rancher Labs and Netic invite you to attend Rancher Rodeo Days in Aarhus and Copenhagen.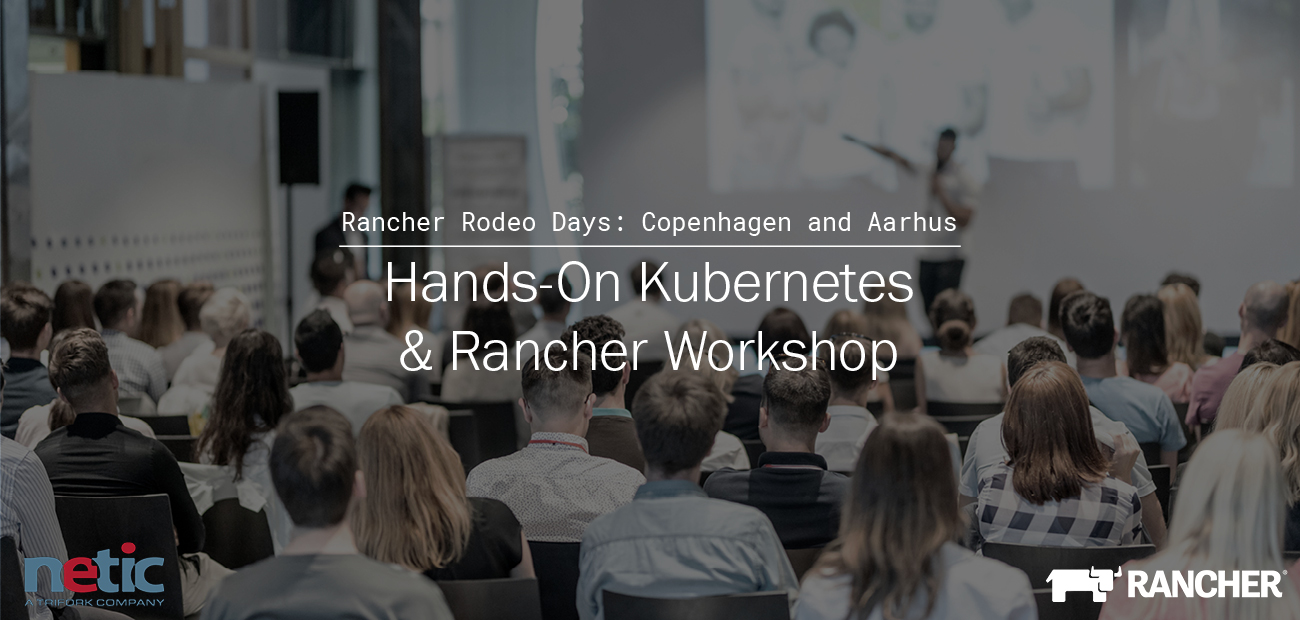 The workshop is designed to equip DevOps and IT teams with the practical skills needed to work with Kubernetes and Containers. Ranchers technical expert, Sheldon Lo-A-Njoe, introduces Rancher, Docker and Kubernetes, and you will be taken through the necessary steps in deploying and managing a Kubernetes cluster.
What you'll learn
We will go through the following topics:
Docker & Kubernetes concepts and architecture
Kubernetes cluster deployment
Installation & configuration of Rancher Server
Application deployment & Access
---
Time and place
Tuesday, 3rd of March 09:00 am - 1:00 pm: Aarhus
Radisson Blu Scandinavia Hotel, Aarhus
8000 Aarhus C
Wednesday, 4th of March, 09:00 am - 1:00 pm: Copenhagen
Borgergade 24B
1300 København
---
The agenda
Registration (Breakfast Available) - 30 minutes
Rancher Introduction & Marketplace Overview - 45 minutes
Rodeo Introduction & Overview - 30 minutes
Rodeo Objectives
Explain Docker and Kubernetes Concepts
Begin Training Session - 30 minutes
Provision HobbyFarm User Accounts
Install Rancher Server
Walkthrough of Rancher UI
Coffee Break - 15 minutes
Kubernetes Deployment - 30 minutes
Kubernetes Installation
Exploring the Cluster with Rancher and the CLI
Installing Applications from the Catalog
Q&A and Advanced Topics (if time permits) - 30 minutes
Persistent Storage
Monitoring with Prometheus and Grafana
Using the Rancher CLI
Please notice that the workshop will be held in English. Moreover, please bring a laptop-computer to the workshop.
By submitting the form on this page, you are agreeing to receive communications from Rancher Labs. For information on how to unsubscribe from communications from Rancher Labs, as well as Rancher Labs privacy practices, please refer to Rancher Labs privacy policy here.