Guide: 5 Steps to Ensure Measurable IT Security
When Danish companies make the decision to invest in IT security, it typically takes place without thorough assessments of the investment and concerns whether or not it is the most appropriate solution for the company in question.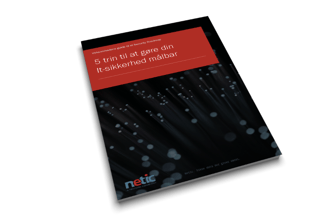 The guide is intended for the employee responsible for the decision-making regarding IT security in your company.


In our guide you get:
A recipe on how to make your IT security measurable

What is a Security Maturity Assessment - and how do you conduct one?

How to choose the right methods for the purpose

How the Maturity Assessment forms a basis for the Security Roadmap

Support to get going
"Netic is very open about their progress. We are on the same wavelength, and it was quickly apparent that Netic had the experience we were looking for. And we were able to start right away. Something that was crucial"

- Gitte Melph, Information Security Manager, Aalborg University
Happy reading. Enjoy your guide.